CSz Los Angeles is pleased to host

the


ComedySportz World Championship, June 28 – 30, 2018!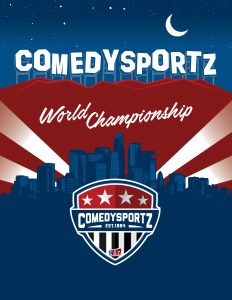 Over 25 cities will be represented, from Los Angeles to Manchester, UK in this annual comedy showdown. Matches will be held on the Debbie Reynolds Mainstage at the historic El Portal Theatre, home of the CSz Los Angeles/ComedySportz Theatre.  Teams will gather for three days of training, and then begin matches on June 28th.
Each show will feature four teams, and the tournament will culminate in the World Championship match on Saturday, July 30 at 10 pm.
Tickets go on sale June 1st, including Championship Passes.
Cities registered:
Austin TX
Boise ID
Boston MA
Buffalo NY
Chicago IL
Cincinnati OH
Columbus OH
Dallas TX
Denver CO
Detroit MI
Houston TX
Indianapolis IN
Los Angeles CA
Manchester UK
Milwaukee WI
New York NY
Philadelphia PA
Portland ME
Portland OR
Provo UT
Quad Cities IL/IA
Richmond VA
Sacramento CA
San Antonio TX
San Jose CA
Seattle WA
St. Louis MO
Twin Cities MN
Washington DC
Show Schedule:
Thursday, June 28
7:00 PM Opening Ceremonies and Match
9:00 PM
Friday, June 29
7:30 PM & 9:00 PM
Saturday, June 30
5:00 PM & 7:00 PM
10:00 PM CHAMPIONSHIP MATCH