We're bringing comedy to your work team!
We are offering both LIVE and virtual shows!

Let us create a personalized, interactive show for your family or business. If you're ready for LIVE entertainment, our performers are vaccinated and ready to go!  If you want virtual entertainment, we can provide that too. And the best part is, you can invite anyone in the world to join you!  For more info, email us.
While ComedySportz is the show that has made us famous, we are also known for producing a variety of interactive shows, any of which can be customized to fit your event's theme and company's mission in both a respectful and hilarious way.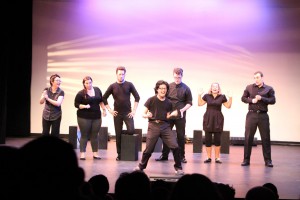 Our Corporate Entertainment Team is a seasoned batch of comedy writers, performers and entertainment specialists. ComedySportz performers and writers have appeared on such notable hits as MADtv, Jimmy Kimmel Live, Comedy Central, Whose Line Is It Anyway?, The Disney Channel, JibJab, Channel 101, Robot Chicken, The Sarah Silverman Show, Reno 911, Saturday Night Live and 30 Rock.  Our expert team always finds the perfect way to add humor to even the most elegant affair.
We have produced and performed for corporations and private groups nationwide throughout the past two decades.  From small events (staff dinners, holiday parties) to audiences of hundreds or even thousands (annual meetings, general sessions), we're a perennial favorite with all manner of businesses because of our reputation for clean comedy, flexibility and professionalism.
Click here to see our client list.
Let our team dream up something wonderful for you:
Interactive Characters
Urban Games
Flash Mobs
Sketch Comedy
Hosts
Game Shows
Product Launches
Scavenger Hunts
Customized Songs and Tributes
Improvised Musicals About You