We're bringing comedy to your living room! 
Let us create a personalized, interactive show for your family or business. Just because we're all at home doesn't mean we can't have some fun. And the best part is, you can invite anyone in the world to join you! 

For more info, email us.

For almost 30 years, ComedySportz teams have been performing
for companies, colleges, universities, churches, temples, schools and faith-based groups nationwide. Let us bring the show to you!
Wouldn't it be great if the entertainment truly revolved around your guest(s) of honor? Think about the joy that can come from a really memorable event. CSz understands this and we deliver on the promise.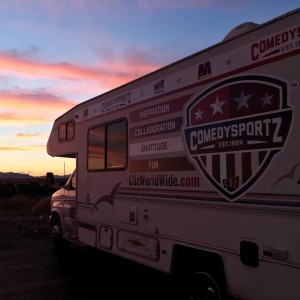 We've succeeded because of our reputation for good clean funny. We strive to produce solid, funny shows that are suitable for all audiences. No matter the event you're planning, we've got something perfect for you!
Invite CSz LA to be the entertainment for your:
Company retreat or holiday party
Employee or client appreciation event
Campus entertainment and programming
Orientation
Dorm, fraternity or sorority event
School assembly
Party for student group (clubs, seniors, honor students, etc.)
Prom dinner or after-party
Scout gathering
Awards banquet
Youth group activity
Church dinner
Bar or Bat Mitvah
Family gathering
Or maybe you're looking for something a little different?
How about U-sical, an improvised musical about your guest of honor? Or maybe Chickspeare, all-female improvised Shakespeare?  Or maybe a customized show?
We can do it all. Just contact us!
Click here to email Anne Etue to get your event started!