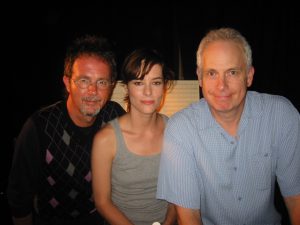 Our company has hosted Christopher Guest's film For Your Consideration. We've hosted ABC Television's The Bachelor. We've hosted classes for Walt Disney. We've hosted many showcases and many theatre productions, including LA's longest-running hit show, ComedySportz. Why not you?
Daytime rentals are frequently available on weekdays. Best nights for rentals are Tuesday, Wednesday and Thursday. The El Portal Main Stage is also available for rent for larger groups and corporate events.
Our rates are by quote. Please call 323.871.1193 for both availability and rates.
Director Christopher Guest (right), actress Parker Posey and composer C.J. Vanston during the shoot for For Your Consideration at CSz Los Angeles.