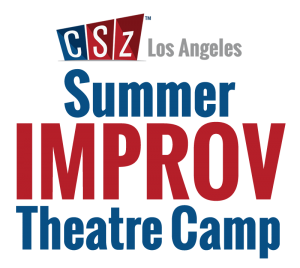 CSz Summer Improv Camp Scholarship!
CSz Summer Improv Camp is a blast and we want to make sure everyone has the opportunity to attend!  To help with that we provide scholarships in amounts from $25-100 to some applicants.
To Submit, simply answer the questions below and email your responses to hsl@cszla.com by the deadline, May 4th.  Feel free to elaborate on your answers, as they should be more than just 1-2 sentences.  You will be notified of the results within a few weeks of the deadline.  If financial need is one of your reasons for applying for a scholarship, please make sure to mention that in your application.
And this is important: if you also want to take advantage of the Early Bird discount, you'll need to register before May 4th. Click the "pay by check" option on the registration site, then you can wait to send in your check once you have learned what scholarship money you might have been awarded.
Here are the questions:
1.  What are you hoping to get from attending a camp centered around improvisation?
2.  Tell us about a subject at school or elsewhere that you've found interesting–something outside of performing arts. What other classes have intrigued you? (It could be a course/workshop/trip/whatever that you took outside of your regular school.) How might your interest in this subject affect the path of your life?
3.  Many of us in this field think that the arts can be used to bring people together and create understanding, especially in turbulent times like the present. Can you tell us about one of these things?…
• A time when you've witnessed, or been a part of, something that revealed the usefulness of art (any kind) in bringing people together
• A plan/dream/idea/goal of yours in which you can imagine a way for art (any kind) to bring people together
Deadline to submit is May 4th, 2020!